The Thembelihle Vision: To be a beacon of hope in the pursuit of excellence.
---
To provide a quality education to under-resourced communities from the Howick area. The school aims to equip learners for life through an education that fosters innovation and excellence.
The governing body and teachers hope to nurture and promote the academic, spiritual, social and emotional growth of the children. The School is interdenominational and welcomes learners of all faiths and from all backgrounds.
---
---
Our children come from poverty stricken, poorly resourced communities surrounding Howick of the KwaZulu-Natal Province of South Africa.
Those living in these communities are largely unemployed and have moved from rural areas in search of employment. Many of our children are orphans, members of child headed households, living with HIV and AIDS either personally or with their caregiver or living with grandparents or relatives who survive on minimal state pensions. In some cases they are immigrants.

Living conditions are very harsh and many of our children come from homes with no running water, electricity or sewage systems.
Thembelihle translates to "Good Hope"  - a hope that all shall be well.
---
Our school consists of two campuses. The pre-primary school is located at the "Old Parsonage" at 8 Dicks Street, Howick, and the primary school at 90 Main Street, Howick.
The pre-primary school campus caters for co-eduational learners between the ages of 3 and 6. Through innovative learning programs, we provide a stimulating environment for the physical, intellectual, social, emotional and spiritual development of the child.
The primary school encompasses a holistic school environment through the Formative Junior and Senior Primary phases, aiming to develop the learner academically, socially, physically, emotionally and spiritually, through school from grades 1 – 7.
---
Educational Model
STEAM
Our academic model is focused on not only filling our children's minds with knowledge, but also developing key skills which will equip them to think critically and creatively. Through our holistic approach to education we develop the unique talents of every child so they reach their full potential and subsequently have access to the most competitive high school and tertiary programs offered in our country. Our scholars recognize education as a means to break the cycle of poverty from which they originate and thus show commitment and perseverance in their studies.
By focusing on Science, Technology, English, the Arts and Mathematics (STEAM) we strive to encourage our children to "think logically and laterally" so that they achieve academic success.
BILINGUALISM
In a competitive world, it is imperative to take every measure to rise above the rest. With Thembelihle School as an English medium school, we recognize the need to interact in multiple languages, embracing the complexity of culture identified in the 11 South African Official Languages with pride. Studies have revealed that bilingualism encourages our minds to be resourceful in its process of defining and prioritizing information. It has shown to improve and develop cognitive levels, pathways for creative solutions, concentration and application, aptitude to isolate information and grasp new concepts within a demanding environment.
PHYSICAL & SOCIAL DEVELOPMENT
Many of our children are the innocent victims of extreme circumstances including gender based violence, broken families, illness and malnutrition. We endeavor to nurture our children through every area of their lives by providing for their physical and social development. We accomplish this through providing daily nutritious meals as well as medical care and counselling when required. In addition our sporting program encourages their physical development and teamwork.
---
---
---
Information Technology
An enormous challenge for the school in 2013 was to enhance the standard of education offered at the school through the introduction of technology.
In an attempt to foster innovation and excellence in teaching, the school has equipped all our teachers with laptops as well as data projectors in their classrooms. Teacher training has been provided by SchoolNet, a not-for-profit NGO that provides ICT integration for teachers and education managers. We have introduced tablets for use by the primary school children to allow individual interaction with online learning programs.
Technology has also been introduced into the preschool, thanks to a generous donation from KidSale in the USA.
---
---
---
Sports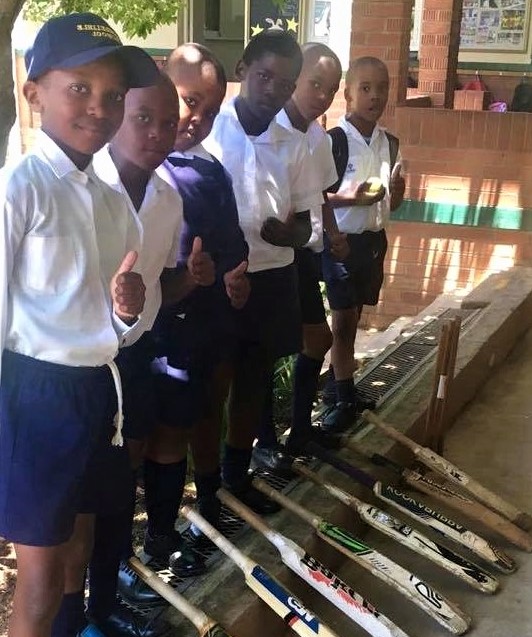 A HOLISTIC EDUCATION
Thembelihle takes pride in its value driven system of education, offering a solid educational foundation, supported by exposure to various other educational interests, that are sadly often lacking in non-fee paying Government schools.
We are committed to the development of the whole child; body, mind and spirit.
Through sports we aim to develop a child's self confidence and self respect, nurturing their commitment and the reward in dedicated application and pride in their achievement.
We aim to participate in inter-school matches, providing our budding athletes an opportunity to be noticed at District, Provincial level and beyond. In developing their physical strength and technical skills, this will assist with growth opportunities and bursary possibilities.
---
---
---
Choir & Arts
CHOIR
John Tungay established our Choir in 2011, the founder of the Drakensberg Boys Choir. With a group of 24 talented children between the ages of 8 and 12, they were taught to read musical staff notation, breath control and vocal development with highly accurate pitching of notes. Their ability to read and pronounce difficult words in English has resulted in the children being able to read and sing in perfect English. The choir grooms a child's confidence through a well-spoken command and understanding of the English language.
We embrace local traditions focusing on singing cultural songs and learning cultural dance. Some of the choirs' notable performances include singing a challenging program of classical music with combined adult choirs from Durban, Pietermaritzburg and the Midlands, with well-known Johannesburg conductor, Richard Cock. Following these performances, children were invited to attend the Royal School of Church Music 2013 and 2014 Summer Schools. The Thembelihle children shone among choirboys and girls from all parts of South Africa, with one of our children receiving the prestigious award of top chorister.
---
---
---
Eco-school Program
We are proud to have joined the Eco-schools program. Eco-schools operate in over 51 countries worldwide and is an international program of the Foundation for Environmental Education (FEE). The program is managed locally by the Wildlife and Environmental Society of South Africa (WESSA).
Eco-schools improve environmental management at schools and promote environmental learning. This means that groups of teachers, learners and community members undertake projects to improve environmental management at their school. This could range from saving electricity to starting a vegetable garden – the possibilities are endless! Teachers draw on these practical projects when planning their environmental lessons.
Thembelihle is very privileged to be situated in Howick, close to the WESSA offices. In addition, the school has joined the Midlands Meander Educational Project which provides teachers and children with access to many resources and assists the establishment of environmental projects.
---
---
---